Texas Instruments TI-99/4A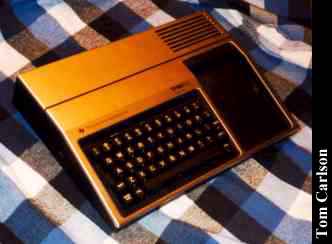 ---
Owner: T. Carlson
Location: Williamsburg, VA
---
I now have my own TI99/4A! I'll try to record some sound files from the Speech Synth soon. I've received lots of
comments
about the TI-99/4A. Many thanks to all who supplied additional information!
---
The Texas Instruments TI-99/4A was a neat little computer that was never really given a chance. It came out somewhere around the same time as the
Commodore VIC-20
. It originally cost quite a bit, but the price soon fell to the level of competing 8-bits. Most of its software ran from cartridges, called Command Modules. It was the first small personal computer to have a 16-bit processor. It also had a radical silver and black case. And, for awhile, also included a Speech Synth module that sounded remarkably good.
Unfortunately, the TI-99/4A had several strikes against it:
Which is too bad. It was a nice little computer that deserved a little more attention.
Later versions of the TI-99/4A used a more standard, but less cool, color scheme.
---
---
Red Wolf's TI99/4 (no A)
---
K. Schrock's TI-99/4A, both old and less old models:
---
L. Herman's TI-99/4A, complete with memory expansion and printer:
---
---
Most Recent Comments for the Texas Instruments TI-99/4A:
No comments yet submitted
---
Click here to view all comments for the Texas Instruments TI-99/4A and to leave your own.
Click here to view comments about other Texas Instruments computers.
---
Send comments to here! (Note the new address. Lots of space to hold photos sent my way.)
---

Back to the Museum!
---