Atari 400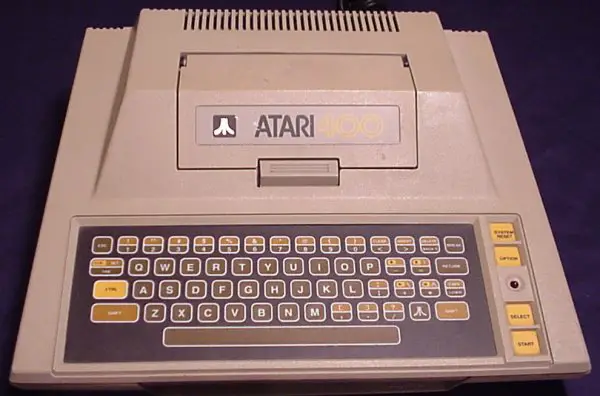 ---
Owner of stock 400: Tom Carlson
Donor of tricked out 400: (Looking it up...)
Location: Williamsburg, Virginia
---
The Atari 400 was the baby brother of the Atari 800. It lacked much that it's big brother enjoyed:
Only one cartridge slot.
Really hard-to-use membrane keyboard.
No expansion slots.
So, did all Atari 400 owners just sit back and accept this. No! They didn't. Some tricked out their Atari 400s with real keyboards, additional memory, and cool things like bright red reset buttons.
---
Stock Atari 400:

Close-up of the membrane keyboard. Look how flat it is. Yuk! Not very nice to use.
Empty cartridge slot. Note that it's the "Left Cartridge" slot. It seems silly, considering that it's the only slot. But it shares carts with the 800. The 800 has two and some cartridges have to be in the left slot. So it does make some sense to label it this way.
Cartridge slot filled with a Pacman cartridge. Notice how the cart itself has the "Left Cartridge" label. It would be pretty confusing if the 400's single slot wasn't labelled in this way.

Tricked Out Atari 400:
---
Most Recent Comments for the Atari 400:
No comments yet submitted
---
Click here to view all comments for the Atari 400 and to leave your own.
Click here to view comments about other Atari computers.
---
Send comments to here! (Note the new address. Lots of space to hold photos sent my way.)
---

Back to the Museum!
---