Addressograph-Farrington 1680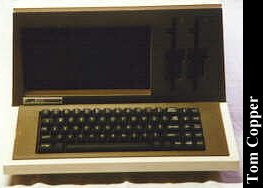 ---
Owner: Tom Copper
Location: Roxboro, NC
---
Tom Copper's Comments:
I found two of these computers at a Hamfest a couple of years ago and haven't been able to find out anything about them except what I have listed below. When I got home I discovered one of them had a disk in it with a copy of Whizwriter word processor and the system files on it. WHEW!
---
NEC Z80 CPU
CP/M ver. 1.0
RAM ?
Built in 8" x 3-1/2" green phosphor monitor
1 serial port, 1 parallel port and 1 centronics port (50 contacts)
2 5-1/4 FDD, 180 track DS/DD (vertical side by side)
Newest date found on it anywhere is February 1983.
Made in Japan for Addressograph-Farrington, Inc., Randolph Industrial Park, Randolph, Mass.
---
Any help to further identify this computer and how it was used will be greatly appreciated. Any software, manuals, peripherals or literature will be welcome as well.
---
Most Recent Comments for the Addressograph-Farrington 1680:
No comments yet submitted
---
Click here to view all comments for the Addressograph-Farrington 1680 and to leave your own.
Click here to view comments about other Addressograph-Farrington computers.
---
Send comments to here! (Note the new address. Lots of space to hold photos sent my way.)
---

Back to the Museum!
---