Atari 800XL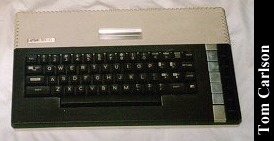 ---
Owner: K. Slettemoen & T. Carlson
Location: Williamsburg, VA
---
Sleek version of the Atari 800. This one didn't come with a power supply. This, combined with my usual ignorance of early Atari products, leaves me with little to say. But I'm sure you Atari freaks out there will supply me with some facts!
---
---
Most Recent Comments for the Atari 800XL:
No comments yet submitted
---
Click here to view all comments for the Atari 800XL and to leave your own.
Click here to view comments about other Atari computers.
---
Send comments to here! (Note the new address. Lots of space to hold photos sent my way.)
---

Back to the Museum!
---