Amstrad PPC640D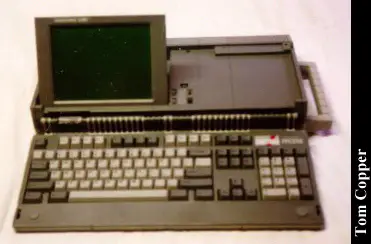 ---
Owner: Tom Copper
Location: Roxboro, NC
---
Tom Copper's Comments:
This is another XT base Portable with the following features:
8088 CPU @ 4.77 MHz
2 - 720K FDD
640K RAM
LCD Screen with MGA/CGA video connector. Optional external monitor available gets DC power supply from computer. Or you can use a regular Mono or CGA monitor and control video mode with built in DIP switch.
101 key keyboard
2 Serial Ports
1 Parallel Port
Real time clock
Uses 10 "C" batteries or 12 volt AC adapter
Internal 2400 baud Modem w/standard telephone connection.
Software supplied with computer: MS-DOS 3.3 w/special Amstrad functions CrossTalk Mirror 11
Weight with carrying case, manuals, power supply and OEM disks is 22 lbs.
---
Most Recent Comments for the Amstrad PPC640D:
No comments yet submitted
---
Click here to view all comments for the Amstrad PPC640D and to leave your own.
Click here to view comments about other Amstrad computers.
---
Send comments to here! (Note the new address. Lots of space to hold photos sent my way.)
---

Back to the Museum!
---