Magnavox Magnum 16-CD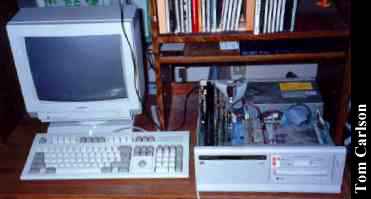 ---
Owner: T. Carlson & K. Slettemoen
Location: Williamsburg, VA
---
This is our personal home computer. It originally came with 1 meg RAM, a 40 meg hard drive, and a single speed CD-ROM which didn't even reach MPC1 levels. Later, it had 3 megs RAM, a 2400 baud modem and an old 8 bit Sound Blaster. The CD-ROM no longer spins up. You can't run Windows any slower than this!
---
Long ago, I packed it with 8 megs RAM and gave it a 62 meg hard drive. Then I loaded Linux on it, installed the Apache web server, and added an old token ring card. It was then the World's Cheapest Web Server. But that was long ago
---
Most Recent Comments for the Magnavox Magnum16-CD:
No comments yet submitted
---
Click here to view all comments for the Magnavox Magnum16-CD and to leave your own.
Click here to view comments about other Magnavox computers.
---
Send comments to here! (Note the new address. Lots of space to hold photos sent my way.)
---

Back to the Museum!
---